Our Services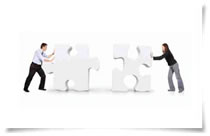 Integration with the Customer
We conduct working meetings between operational areas to establish routines and information flows between the parties involved.
We analyze financial statements with the following reports: Liquidity Ratio, Liquidity Ratio General, Current Ratio, and Debt to assets ratio, Return on Assets, and Return on Equity.
Accounting Area
Classification of accounting and bookkeeping in accordance with new standards and accounting principles;
Preparation of monthly trial balances and management reviews;
Preparation of Balance Sheet;
Keeping of Lalur (Book of taxable income);
Preparation of Books and ledger;
Financial Statements, and SPED FCONT accounting;
Computerized accounting system integrated with other areas.
Tax Area
Tax Books; Bookkeeping
Calculation of taxes (PIS, COFINS, IPI, ICMS, ISS and the Simples National);
Bookkeeping Record Book Inventory;
Delivery of Ancillary Requirements (DCTF, DACON, DIPJ, DIRF PERDCOMP, SINTEGRA);
Monitoring of processes (settlement of disputes).
Human Resources:
Guidance on the principles of CLT (Consolidation of Labor Laws), as well as those relating to Social Security, SIP, FGTS and applicable to employment relationships maintained by the Customer;
Maintain employee records and related;
Preparation of payroll, payroll taxes, and related activities;
Compliance with requirements of law enforcement procedures.
Personal Income Tax
Study of the impact of the financial results in individuals who participate in companies;
Analysis of alternatives for reducing the tax burden;
Preparation of statement of annual adjustment.
Legalization of Business Area
Organization changes and extinction of entities (companies, associations or non-profit, individual firms ...) and related documents;
Monitoring of processes in the organs of the contracting authorities;
Request for payment of debts in installments;
Obtaining clearance certificates.